At the Al Haqq stud, Mr. Müller teached him personally about everything related with the Arabian Horse. He insisted in that David had to study most famous and rich breeding programs in the world as Judith Forbis', Dr. Hans Nagel, D. Diego Méndez'... He felt very grateful for the treasured knowledge that Mr. Müller transmited to him. Still nowadays his advices are rembered and make his breeding decisions easier and more successful.
In 2011, he joined Guzzo team for Brazilian Nationals, Scottsdale and Vegas shows. There he had the possibility to train superb horses and learn from some of the best professionals of the Industry.
And he became in 2013 head trainer and handler of the raising stud Al Shiraa Arabians, from UAE, as well.
Even this busy professional life he never neglected his private breeding program which is now consolidated with Antonia's having as a new name Dalia Arabians.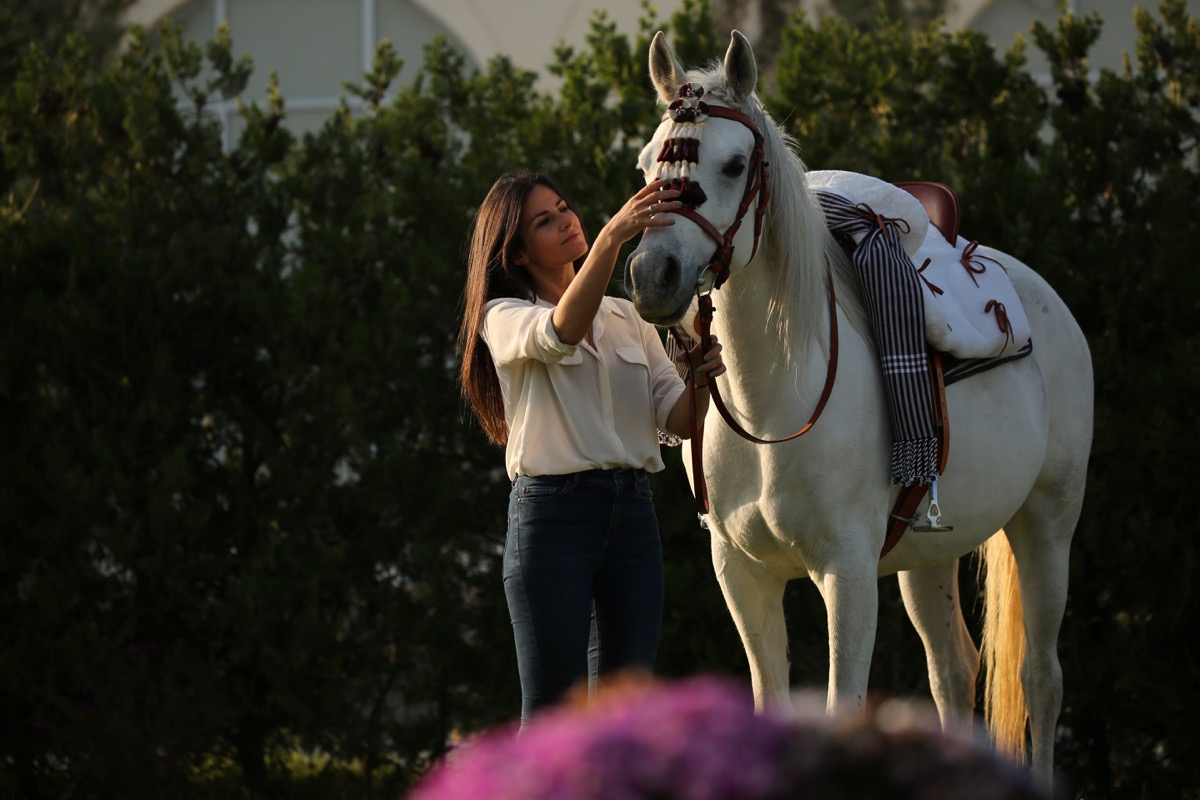 On the other hand, Antonia was introduced to the arabian horse world by his father Guillermo Bautista Vich, a very experienced breeder who founded Bautista Vich Stud in 1991. He has been always an enthusiastic and successful breeder in Spain.
Father and daughter always shared their love for animals, but specially for the horses.
So the decision to buy a horse for dad and daughter was taken, but for sure it should be an arabian. Then in 1991 Guillermo purchased a beautiful and huge mare called Parrandera which stole all their hearts. Antonia loved to ride and spend time with "her" fleabitten mare.
After some time the family started to grow and 3 more arabian mares were purchased at the Military State Stud: Icaria, Falla and Obara. All Pure Spanish. Then a stallion joined the herd: Hafic. Then the base of the breeding program of Bautista Vich Stud was stablished.
After that many trips, shows, and visits to arabian studs came. And new horses were added to the program including horses from prestigious Diego Mendez and Polish State Studs between others
Now, with the experience of managing a large farm with several activities and a big number of horses, she felt attracted by the idea to be a part also of a small breeding program together with David.
Recently she became a National Judge, as well, as a part of her formation.
Dalia Arabians started with some Pure Spanish and Golden Cross mares and a Straight Egyptian Stallion called Aqir Tadjula, bred by Mr. Peter Stoessel of Aqir Trading, home of Ansata Sinan. Also a beautiful and special mare with russian lines was in this package: Boreale Cathare. That immediately after Dalia Arabians was founded, she became Spanish National Champion Mare. Soon she was bred to World Champion Abha Qatar and the first Dalia homebred was born. A beautiful filly that was named DAA Bella Qatarina.
Both mother and daughter are retained at the stud.
Soon a few Straight Egpytians females joined the herd: Malih Al Shamaal (by TF Shamaal) and after Hanaya Mira (by Nader al Jamal).
But one of the most exciting times David and Antonia had was their adventure in US, where they purchased a filly called RD Shamara (by RD Dynamo), she was coming from Canada to hot Scottsdale, still in her winter woolies and in field condition. But she was very correct, showy and flashy. So they decided to buy her, leaver her in US and train her, and see if she would be ready for Scottsdale. And after 3 weeks she was looking stunning! So she was shown by David at the International classes and she became classwinner! It was unbelieveable! After the show she was sold to Saudi Arabia. But David and Antonia had to bring an american mare or filly to Europe to add to their breeding program. And RHR Bellacontessa, a gorgeous OFW Magic Wan daughter, was perfect for it. It was a fast and easy decision. Some months after, she was entered to her first show in Europe, the Spanish Nationals, where she took easy the Gold Medal.
Now she is one of the corner stones at the farm.


Dalia Arabians is still keeeping the essence of a small breeding program with no more than 15 horses, each year between 3-4 babies are born by the best quality stallions.
A wise selection is made regarding which ones should be kept and which ones can be put in the market.
It all started as a dream some years ago and now we are looking forward to see what is awaiting for Dalia Arabians in the future!